Invitation to the ninth edition of #Clean Air Academy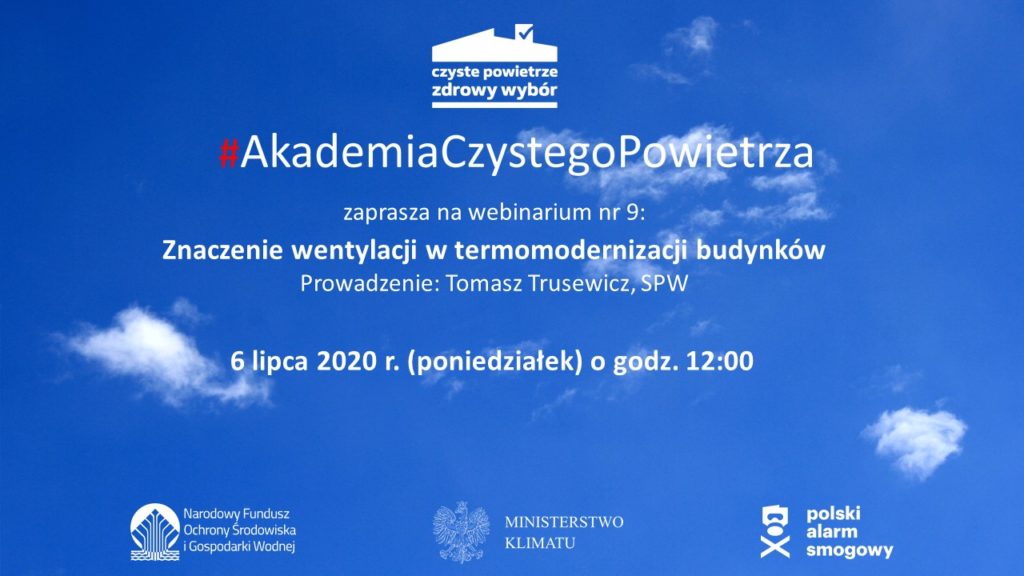 #Clean Air Academy is a series of free webinars for installers, energy consultants and construction companies. Monday's online meetings, which started in May, are a joint initiative of the Ministry of Climate, the National Fund for Environmental Protection and Water Management and the Polish Smog Alarm.
Information about the Clean Air Academy
The idea of webinars was born as a response to the situation triggered by COVID-19, which caused many companies to stop doing business. Through the Clean Air Academy we want to reach a wide range of entities providing services supported by the Clean Air Programme and advising the beneficiaries. The Academy is supposed to raise awareness of the available support for environmentally friendly energy supply solutions for buildings.
– says Michał Kurtyka, climate minister.
Another webinar on 6 July!
The ninth webinar in the series #Akademia of Clean Air will take place on the 6th of July at 12:00 p.m. Tomasz Trusewicz (SPW) will speak about the importance of ventilation in the thermal modernisation of buildings.
In order to take part in the training you need to register on the website: http://nfosigw.gov.pl/formularze/. The order and limit of (500) applications applies. Those who do not manage to register for individual meetings will be able to watch them – also free of charge – on the NFOŚiGW YouTube channel.