Training in filling out applications for the purchase of electric vehicles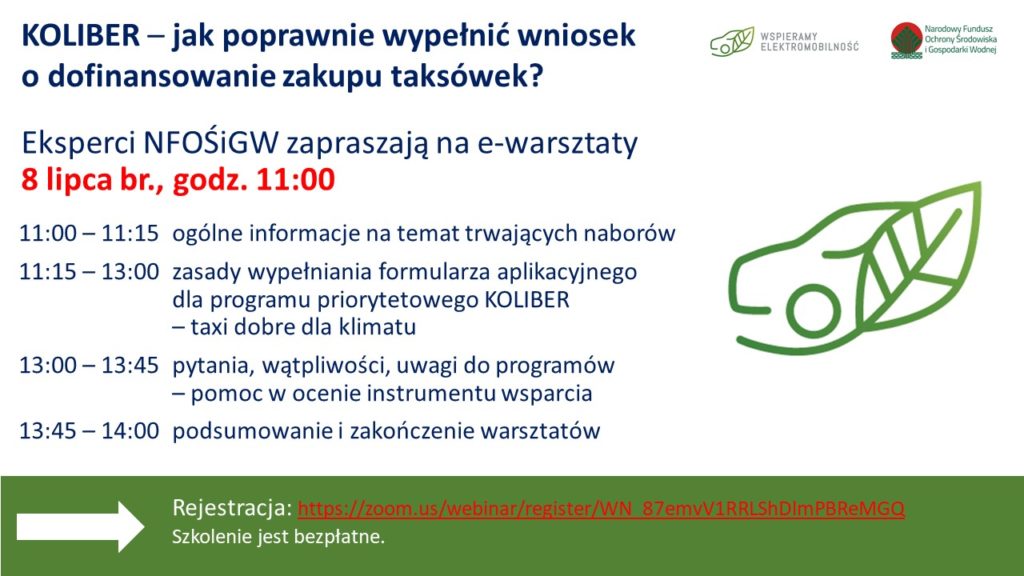 The experts from the National Fund for Environmental Protection and Water Management (NFOŚiGW) invite you to another e-workshop on filling in applications for funding under the calls for proposals for three new electromobility programmes. Register and ask questions about the programme: eVAN, Koliber, Green Car.
Agenda of the meeting on 8 July 2020
11.00 – 11.15 general information on ongoing calls for proposals
11.15 – 13.00 rules for filling in the application form for the priority programme KOLIBER – taxi good for the climate
13.00 – 13.45 Questions, doubts, comments on programmes – assistance in evaluating the support instrument
13.45 – 14.00 – conclusion of the workshop – summary
The training is free of charge.
Registration: https://zoom.us/webinar/register/WN_87emvV1RRLShDlmPBReMGQ
Agenda of the meeting on 10 July at 10:00 a.m.
Register and learn how to fill in the applications.
10.00 – 10.15 general information about the ongoing calls for proposals
10.15 – 11.00 rules for filling in the application form for the eVAN programme – financing the purchase of an electric van (N1)
11.00 – 11.45 rules for filling in the application form for the KOLIBER programme – taxi good for the climate
11.45 – 12.30 rules for filling in the application form for the Green Car programme – co-financing of the purchase of an electric passenger car (M1)
12.30 – 12.45 summary and conclusion of the workshop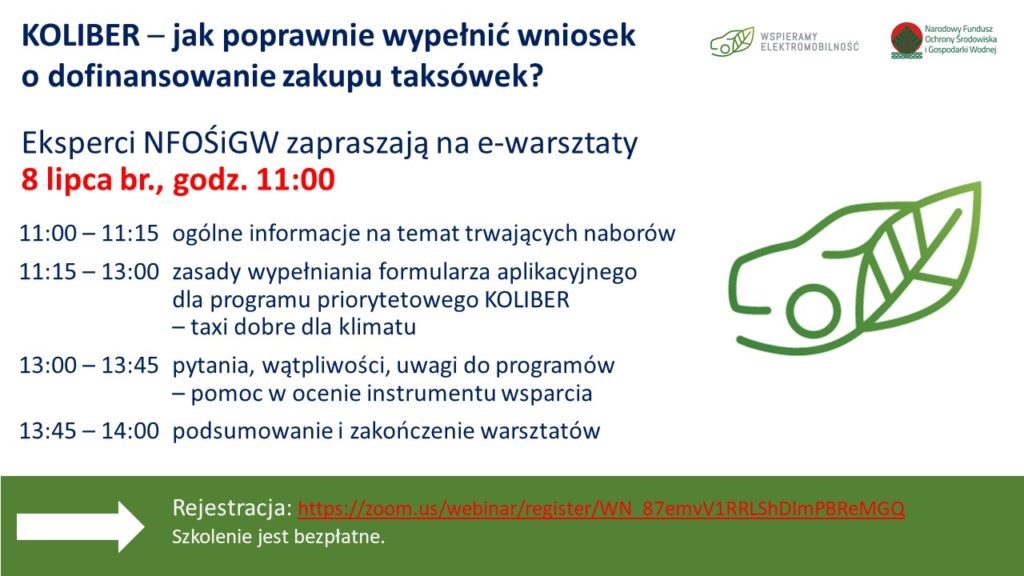 08 lipca 2020