Economic Forum in Munich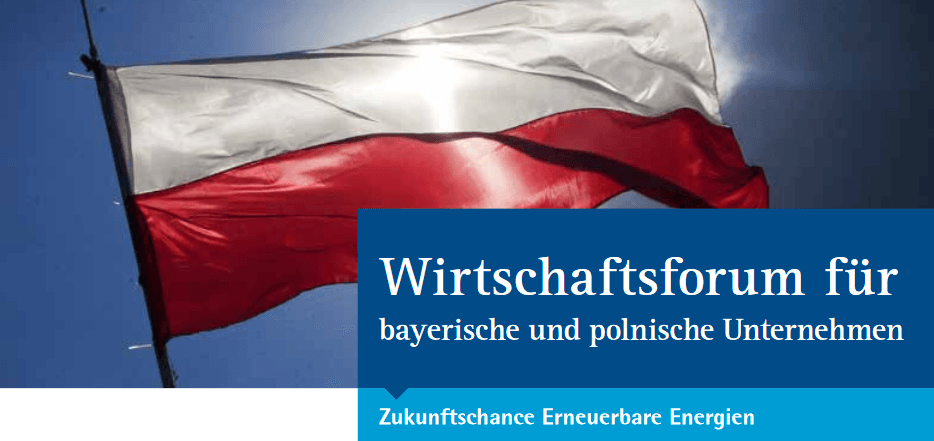 On February 20-22 at the headquarters of the Chamber of Commerce and Industry in Munich (Industrie- und Handelskammer Akademie, Orleansstraße 10-12), an Economic Forum was held for enterprises from Poland and Bavaria devoted to energy from renewable sources (Wirtschaftsforum für bayerische und polnische Unternehmen).
The Forum was organized by the German Chamber of Industry and Commerce in Munich and Upper Bavaria (IHK für München und Oberbayern) in cooperation with AHK Poland and the Munich District (Landkreis München) as part of many years of cooperation between the Krakow, Wieliczka and Munich starosties.
The following were presented during the forum:
Current status and future prospects: Energy from renewable sources in Bavaria – Norbert Ammann, PhD, head of the environment, energy and natural resources department at the Chamber of Industry and Commerce in Munich,
Opportunities for business development in the field of energy obtained from natural sources in Poland – a lawyer and co-worker at Rödl & Partner,
Ebersberg-Munich Energy Agency as the driving force behind the breakthrough in energy policy – Hans Gröbmayer, an environmental protection manager.
During the meeting, activities in the field of RES as well as energy-saving and green construction were presented by: SPCleantech, Malopolska Center for Energy-efficient Construction, Horizone Studio, BLOK Architects and Columbus Energia SA.
Anti-smog resolutions and the LIFE project
During an open discussion, the experiences of the Malopolska Region in the area of: reducing low emissions (introducing anti-smog resolutions), implementation of the integrated LIFE and renewable energy projects were presented.
Establishing a network for the exchange of experience with other projects is part of measure E.3, implemented as part of the LIFE integrated project entitled: "Implementation of Air Quality Plan for Małopolska Region – Malopolska in a Healthy Atmosphere".