European Mobility Week 2023
The annual European Mobility Week is kicking off! This is an event that focuses the attention of all of Europe on issues of sustainable transportation, ecology and energy efficiency. The Malopolska Region is once again rising to the occasion, actively joining in the celebration of this unique week. It is worth finding out what European Mobility Week is, what ideals it promotes and what attractions await in Małopolska during this year's celebration.
Annual celebration of sustainable transportation
European Mobility Week is an initiative that was born in 2002 and has been growing in popularity ever since, involving more and more cities and regions across Europe. It is a week during which sustainable transportation is promoted. One that takes care of the environment and reduces harmful emissions. It also encourages the use of alternative means of transportation, such as cycling, public transportation and walking.
Save energy!
This year's edition of European Mobility Week focuses on a very topical topic – energy conservation. In an era of climate change, sensible energy management is becoming an important issue. The slogan emphasizes how important it is to reduce energy consumption in our daily travels. This means, among other things, promoting low-emission means of transportation, such as bicycles, electric scooters, public transportation and carpooling. Such behavior contributes to reducing greenhouse gas emissions and air pollution, among other things.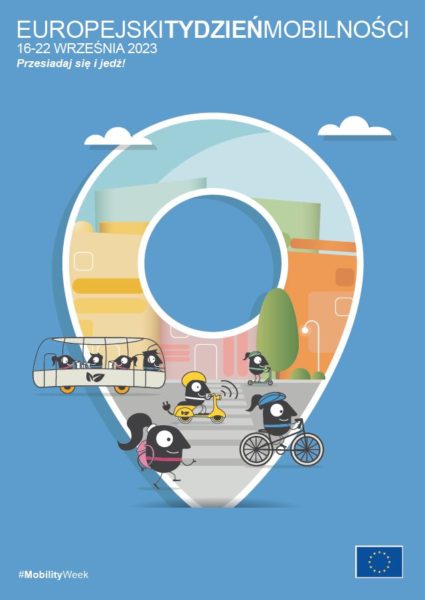 Malopolska in celebration of European Mobility Day
Malopolska Province is joining in this year's celebrations with great commitment. One of the key traditional events is the "Day without a car", which will take place on September 22. On that day, residents of Malopolska will have a unique opportunity to use a train ticket for only one zloty. This is a great opportunity to leave your cars in garages and travel by public transportation, which is not only environmentally friendly, but also saves energy. You can read more about the action here.
Malopolska's cities and municipalities are also actively involved in the celebration of European Mobility Day, organizing lectures, eco-stands and actions that promote sustainability and environmental awareness. Indeed, European Mobility Day celebrations can take many forms – from guided walks to bike rides, street games to public lectures. This year, the Malopolska Region has also prepared a special presentation on energy conservation that can be used to conduct lessons in schools. It is available for download at the end of the article.
Submit your ideas
So far 146 cities and municipalities from Poland have already signed up. We invite other entities to join the campaign and register the events they organize. Submitting your ideas is easy – just visit the Commission's website, where you will find an application form. It's a chance to present creative projects that can help improve the quality of life for residents of Malopolska and support green transportation.

Attachments