Do you have questions about the Clean Air Programme? Take part in the webinar!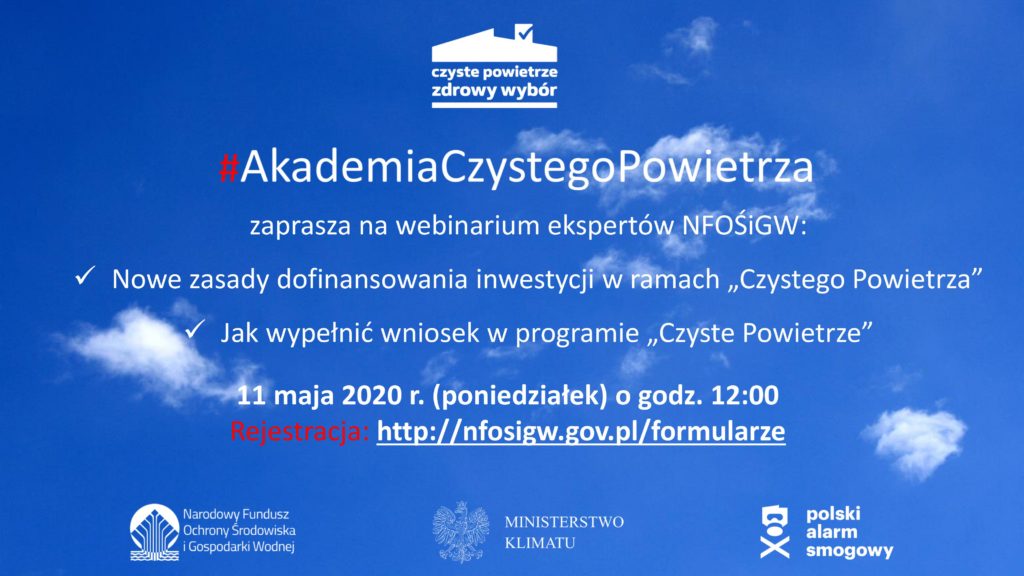 Since 15 May, the government's Clean Air programme, under which it is possible to obtain a subsidy for furnace replacement and other energy-saving measures (thermo-modernisation, replacement of windows and doors), is starting to operate on new, simpler rules. The National Fund for Environmental Protection invites you to a webinar on Monday 11 May this year. During the meeting, you can find out, i. a. who is entitled to receive funding from the project, what documents are necessary and how to submit an application.
I sincerely encourage you to participate in this virtual conference. The event is addressed not only to the employees of offices dealing with air protection or installers, but also to people who think about investments improving air quality. By simplifying the rules of the Clean Air programme, subsidies are really at your fingertips.
– said Tomasz Urynowicz, Deputy Marshal of the Małopolska Region
How to take part in a webinar?
The conference call with NFOŚ experts will start on 11 May at 12.00 p.m. You should register in advance at http://nfosigw.gov.pl/formularze/. We recommend to hurry up, the number of seats is limited!
For whom are the workshops intended?
Monday's webinar inaugurates the "Clean Air Academy" series. The training is intended, i. a. for employees of offices dealing with air protection and energy efficiency, energy advisors, renovation and construction companies, installers of boilers and photovoltaics. During subsequent meetings on the Internet, training courses on modern heating techniques and thermo-modernisation of buildings, as well as on applicable legal regulations are planned. The subject of renewable energy sources will also be discussed. The next webinar is scheduled for May 18th at 12:00 p.m. The event is dedicated to the requirements of product cards and energy labels for heating and ventilation devices. The subject of anti-smog resolutions in Poland in the context of the "Clean Air" programme will also be discussed.
Where can you find information?
Virtual training is a joint initiative of the Ministry of Climate, the National Fund for Environmental Protection and Water Management and the Polish Smog Alarm. More information here. http://nfosigw.gov.pl/o-nfosigw/aktualnosci/art,1577,startuje-cykl-webinariow-akademia-czystego-powietrza.html
You can read about the new rules of the Clean Air Programme on our website.