Invitation: "My neighbor no longer poisons" and "Clean Air"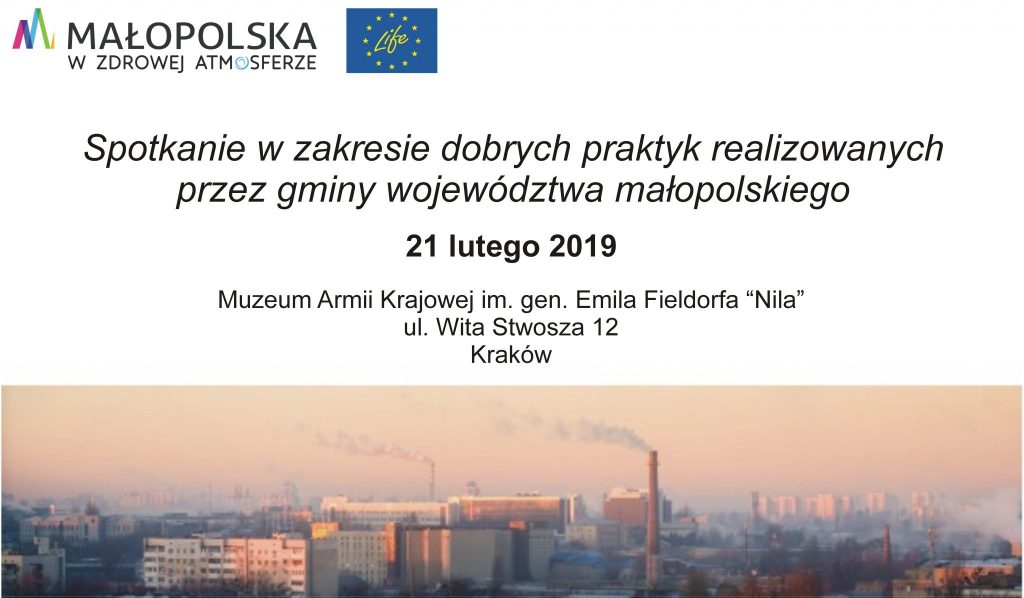 On Thursday, February 21, 2019 the Gen. Emil Fieldorf "Nil" Home Army Museum (12 Wita Stwosza, Krakow) will host a meeting for employees of municipalities. During the meeting, the update of the "Clean air" program, good practices in the inspection of home furnaces and experience of the work of Eco-managers from Raciechowice and Zakliczyn will be discussed.
Agenda of the meeting
| | |
| --- | --- |
| 09:30–09:35 | Start of the meeting – Tomasz Pietrusiak (Deputy Director of the Environment Department) |
| 09:35–11:00 | "Clean air" Program update – Provincial Fund for Environmental Protection and Water Management in Krakow |
| 11:00–11:15 | Coffee break |
| 11:15–12:45 | Good practices in the inspection of home furnaces: "My neighbor no longer poisons" action – Skawina Smog Alert with the Skawina Town Office Inspections in Igołomia-Wawrzeńczyce and Koniusza – Grzegorz Gruszczak, a municipal guard |
| 12:45–01:10 | Good practices in the Raciechowice municipality – Jerzy Tymczyszyn |
| 01:10–01:40 | Lunch |
| 01:40-02:05 | Good practices in the municipality of Zakliczyn – Barbara Witek |
| 02:05–03:00 | Discussing the current issues in the implementation of the LIFE project –Marshal's Office of the Malopolska Region |
Due to the limited number of places, registration is required using the form below and waiting for confirmation of the possibility of participating at the e-mail address provided.
The limit of applications has been exhausted.
If you have additional questions, please contact Mrs. Kinga Stawiarz (Kinga.Stawiarz@umwm.pl, telephone number 12 63 03 306).
The workshops are carried out as part of the LIFE integrated project "Implementation of Air Quality Plan for Małopolska Region – Malopolska in a Healthy Atmosphere", it aims at improving the air quality in the region – under measure C2.