I edition of the Internship Programme "Climate for the Future"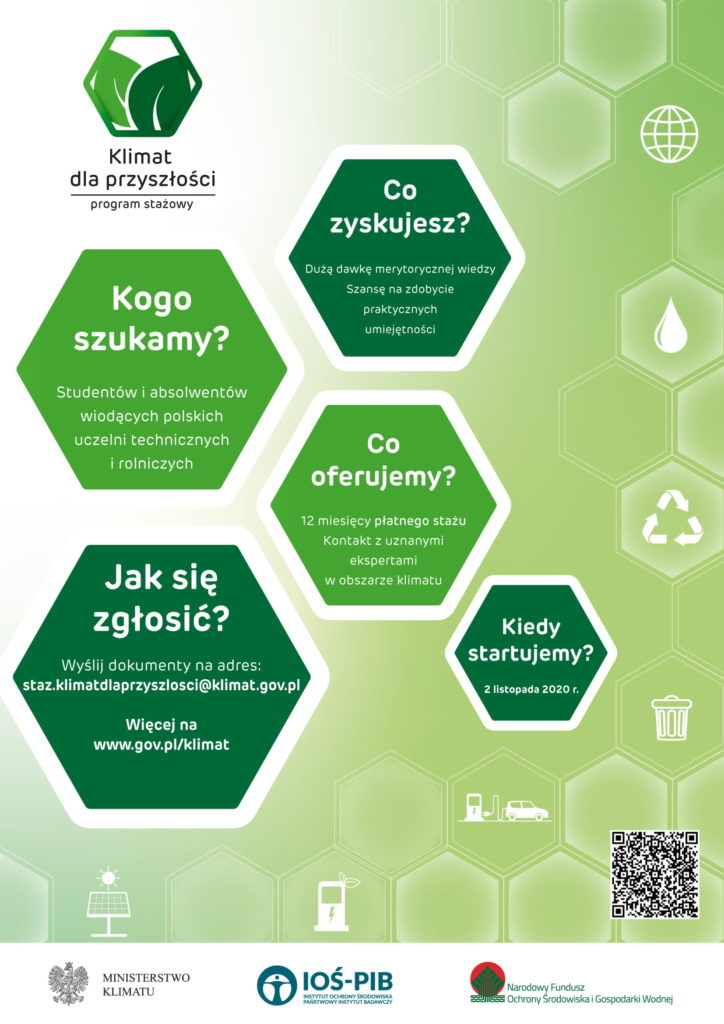 The Ministry of Climate together with the Institute of Environmental Protection – National Research Institute and the National Fund for Environmental Protection and Water Management invite students and graduates of technical universities to participate in the first edition of the Internship Programme "Climate for the Future".
This interesting initiative will allow young people to gain the experience required in the market and unique knowledge from experts from the public sector. It is important that future interns are interested in issues concerning climate policy and rational use of environmental resources.
Who can take part?
The first edition of the Internship Programme is open to: students or graduates of the best technical and agricultural universities in Poland according to the Perspektywy ranking – details in the vacancy notice (to download on the website)
What salary can a trainee receive?
Each Trainee will receive remuneration for the internship in the amount of PLN 3 800 gross per month.
How to apply for the internship?
– read the vacancy notice
– read the Rules and Regulations of the Traineeship Programme Organisation
– Send the required documents to: staz.klimatdlaprzyszlosci@klimat.gov.pl.
Deadlines
Applications may be sent from 28 August to 28 September 2020.
The internship will last 12 months – from November 2020 to October 2021.
What are the rules for selecting candidates?
During the recruitment process, a maximum of 30 candidates will be selected who will receive the highest score. The basis for the decision to be accepted for the internship will be the formal and content-related selection criteria for candidates.
Candidate selection criteria:
Obligatory:
1. an interview, the main element of which is a presentation prepared by a candidate for a subject selected from among the internship and programme partners specified by the organisers of the programme
2. knowledge test – pass marker threshold 60%
3. test verifying knowledge of the English language – pass marker 60%
Optional:
1. documented practice/volunteering in institutions related to the public administration sector.
2. proven command of a second foreign language of at least level B2 (certificate).
Contact:
Additional information can be obtained at: staz.klimatdlaprzyszlosci@klimat.gov.pl