Invitation to the debate "Clean air game"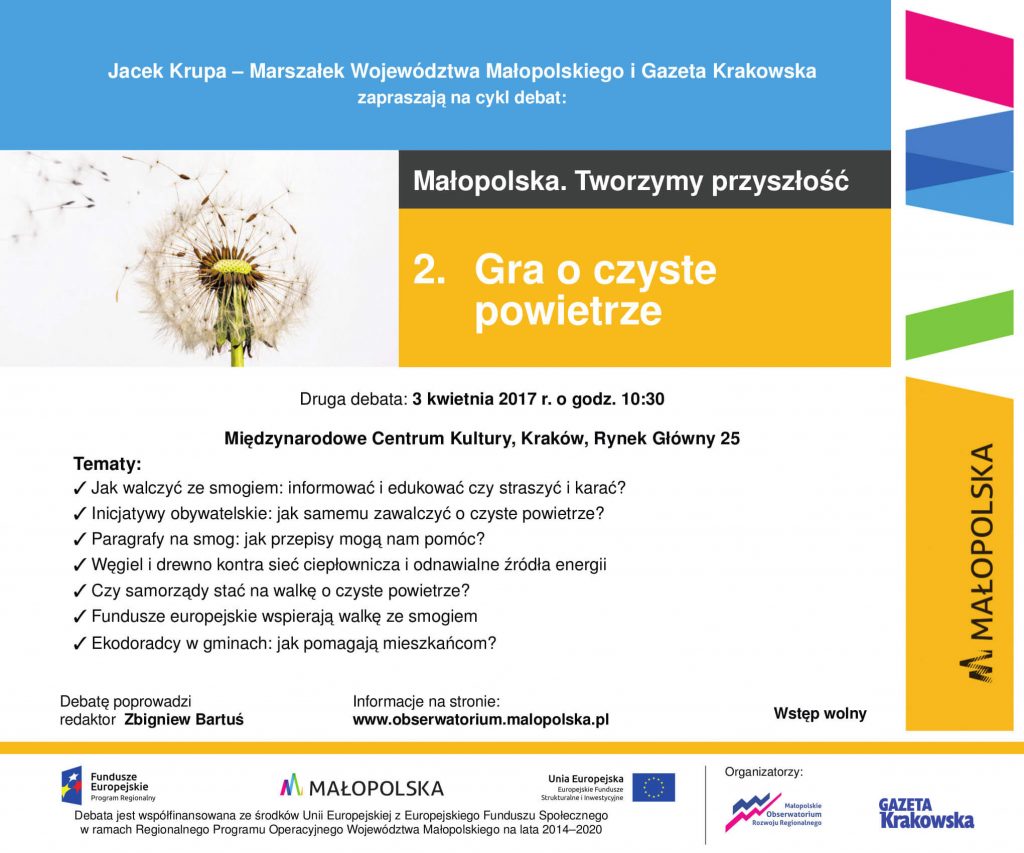 You are cordially invited to participate in the debate Clean air game which will take place on April 3, 2017, at the International Cultural Center in Krakow, Main Market Square 25. The meeting starts at 10:30 am.
The issues included:
How to fight Smog: inform and educate, scare and punish?
Civic initiatives: how to oneself fight for clean air?
Smog paragraphs: How can regulations help us?
Coal and wood versus district heating network and renewable energy sources
Can local governments stand to fight for clean air?
European funds support the fight against smog
Ecomanagers in municipalities: how do they help the people?
Invitations to participation in the debate were directed those actively participating in civic anti-smog movements, representatives of local government administration, municipal police and people from the scientific world.
The meeting will be conducted by the editor Zbigniew Bartuś.
The debate will be the second in the series of the meetings entitles Malopolska Region. We create the future – dedicated to the key areas of the region's development.
The debate is co-organized by the Malopolska Region (the Malopolska Regional Development Observatory) and Polska Press Sp. z o. o., the Publisher of Gazeta Krakowska.
For more information, please visit our website www.obserwatorium.malopolska.pl.
You should send your application for participation in the debate to the email address: morr@umwm.pl.
If you have questions, please contact the staff of the Observatory (telephone number: 12 29 90 829 or 12 29 90 692, mail: morr@umwm.pl).