LIFE in Malopolska. Conference celebrating the 30th anniversary of the LIFE Programme in the EU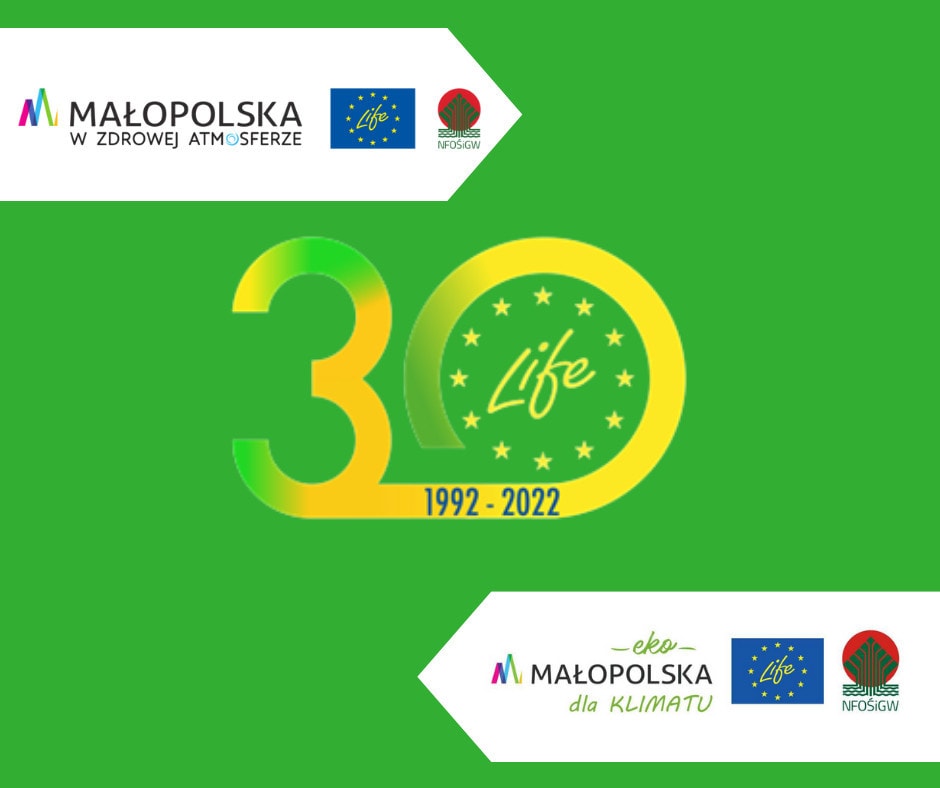 This year, the European Union celebrates the 30th anniversary of the LIFE programme, the financial instrument for the environment and climate action. Its main objective is practical action to support the implementation of EU environmental guidelines in individual countries. Over the years, the programme's structure has evolved and adapted to best help achieve the environmental and climate goals of the EU Member States.
LIFE in the Malopolska Region
The LIFE programme, functioning in the EU continuously since 1992, allowed for co-financing many projects from all over Europe, including about 100 from Poland. Małopolska is one of the main beneficiaries of this programme – it coordinates two integrated projects. Since 2016, the LIFE project MAŁOPOLSKA "Implementation of the Air Quality Plan for the Małopolska Region – Małopolska in a healthy atmosphere" was launched. In 2021, the LIFE EKOMAŁOPOLSKA project "Implementation of the Regional Action Plan for Climate and Energy" was launched.
– We can be happy that Małopolska, as the only region in Europe, is implementing two EU LIFE integrated programmes. The effects are visible at every step, incuding eco-managers active in over 60 communes, free EcoIntervention application, and above all, approximately 70 thousand eliminated solid fuel boilers and furnaces. Since 2021, we have been implementing a second integrated LIFE project for Małopolska, devoted to the issues of climate protection and energy transition, which are so important. Here, too, activities are in full swing, to mention just the climate advisors in almost every county and the several tens of thousands of trees planted in various regions of Małopolska. I am proud that the region implements LIFE projects, thanks to which the quality of our lives changes and we gain the opportunity to pass on a clean and green Małopolska to future generations. – says Deputy Marshall of the Małopolska Region Józef Gawron.
Take part in the celebrations
In regard to the upcoming anniversary, the Marshal Office of Małopolskie Voivodeship, as the coordinating beneficiary of two projects, organizes ceremonial celebrations of the 30th anniversary of the LIFE Programme. They will start on 26th May 2022 at 10:00 a.m. in Kijów Cinema in Cracow. The meeting will be a special opportunity to exchange experience and good practices in implementing projects related to the European LIFE Programme.
Due to a limited number of seats, early registration is required. The invitation is addressed to representatives of local government units and project partners. We are waiting for applications until 13 May this year.
We also encourage you to follow the online broadcast on the day of the conference from 10:00 on the YouTube channel Ekomałopolska dla klimatu.
Agenda
9:30 -10:00
Registration of participants
10:00 -10:10
Opening of the meeting
Deputy Marshal of the Malopolska Region – Józef Gawron
10:10 -11:45
30 years of LIFE – Supporting climate and environment action
Angelo Salsi (CINEA)
Christian Strasser (CINEA)

Benefits of implementing LIFE projects – a chance for regional development and environmental improvement
Representative of the National Fund for Environmental Protection and Water Management
Deputy Marshal of the Malopolska Region – Józef Gawron

Effects of implementing LIFE projects – climate action and air quality improvement
Representatives of the Małopolska Region, Silesian Region and Opolskie Region
11:45 – 12:40
Benefits of implementing LIFE projects – from the perspective of local authorities
Ecomanagers, Adviser on climate and environment, Bussiness Adviser, Ecomanager from Opolskie Region, Representative from the municipality of the Silesian Region
12:40 – 12:45
The end of the meeting
(UTC+01:00) Sarajewo, Skopie, Warszawa, Zagrzeb