Meeting invitation on"Cleaner air for better health in Poland – who, what, how and why?"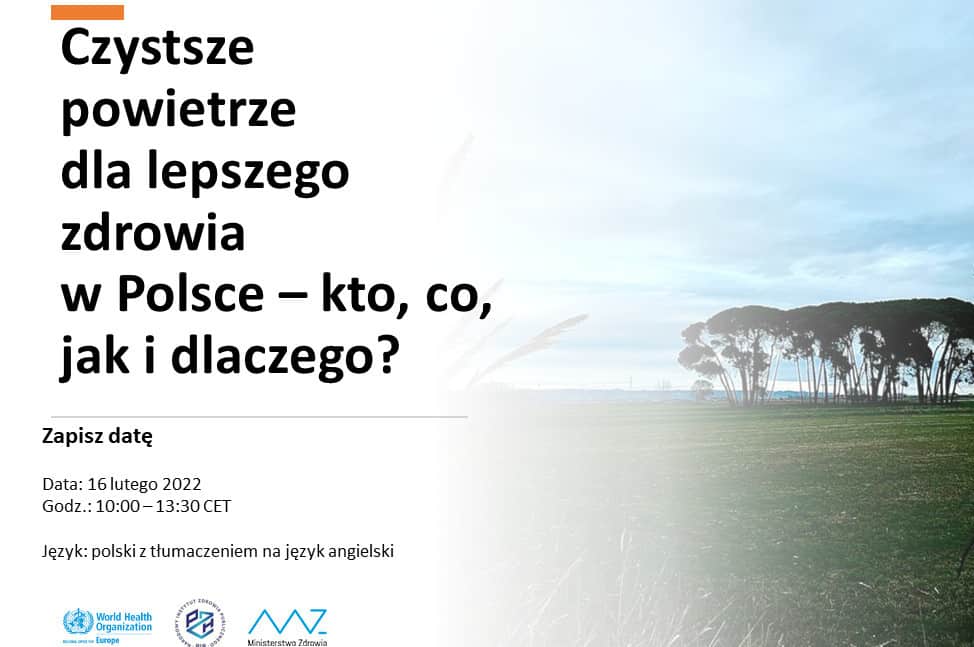 We invite you to an online meeting on air quality and health organized by the World Health Organization (WHO) Country Office, in cooperation with the National Institute of Public Health PZH – PIB and the Ministry of Health. The meeting will be held on 16.02.2022 at 10.00 Participation is free , but pre-registration using the form is required. Meeting will be conducted in Polish and English.
Topics of the meeting:
The meeting will present new WHO studies and tools, in particular:
the latest WHO global guidelines on air quality
application and role of WHO guidelines in European clean air policy making
WHO guidelines on interventions limiting the impact of air pollution on health
the Polish version of the AirQ+ system for quantitative assessment of health effects of pollution in a defined population
health benefits of working together to improve air quality and reduce climate change.
The meeting will also focus on the situation in Poland and actions taken to reduce the health effects of air pollution, including:
estimated health effects of exposure to air pollutants from various sources
ambient air quality in Poland
national and regional action plans for improving air quality
local and regional measures – the experience of Polish smog alerts
the role of the medical community in climate and air quality actions.
Schedule
Session 1: Health effects of air pollution: guidelines, recommendations and risk assessment tools from WHO
10:00 Introduction
10:15 Latest WHO global air quality guidelines (2021):
10:30 Application and role of WHO guidelines in shaping European clean air policy
10:45 Impact of WHO guidelines on clean air activities in Poland
11:00 AirQ+ system for quantitative assessment of health effects of pollution
11:15 WHO recommendations for interventions to reduce health effects of air pollution
11:30 Health benefits of working together to improve air quality and reduce climate change: key principles and tools from WHO
11:40 Break
Session 2. Air pollution and health: assessment of the current situation and measures for its improvement
12:00 Estimation of health effects of pollutants from individual sources in Poland
12:15 National air quality plans and programmes
12:30 Regional and local air quality programmes
12:45 The influence of local actions on air quality – example of Malopolska
13:00 Common goals of clean air and climate policy: "Doctors for climate"
13:15 Discussion
13:25 Closing remarks
13:30 End of the meeting