Meeting of young environmentalists: Students from Poland and Germany gain knowledge about air and climate protection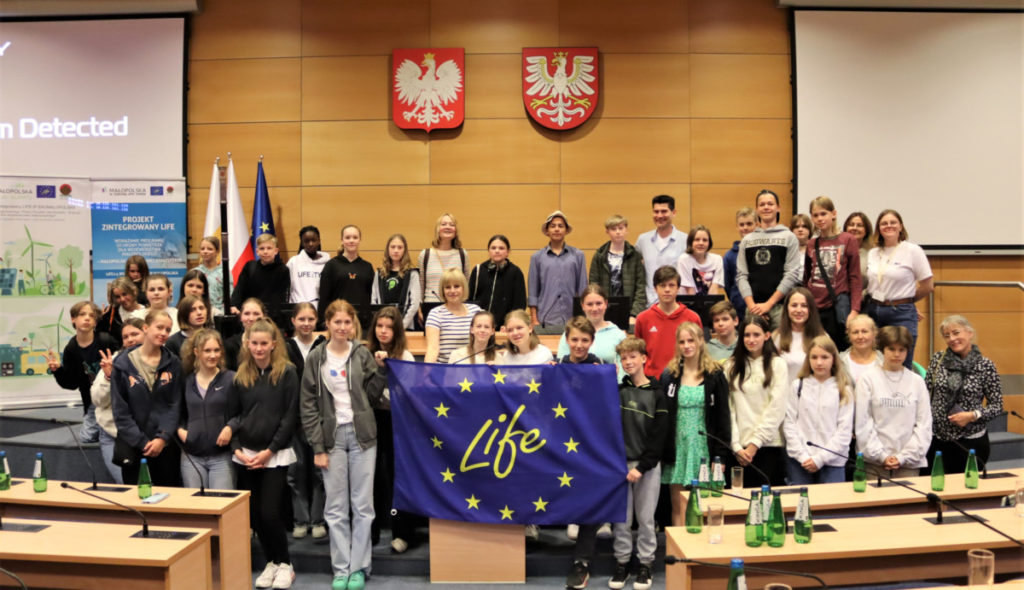 On June 15, the Marshal's Office of the Malopolska Region hosted a visit of 50 students from Poland and Germany . Young people from Małopolska elementary schools in the towns of: Buków, Konary and Włosań, as well as from Berlin, were hosted in Cracow as part of the "Clean Air Around Us" project. It was a great opportunity to explore topics related to air protection, renewable energy sources and counteracting climate change.
The meeting was opened by Dagmara Hnat-Szumny – Plenipotentiary of the Małopolska Voivodeship Board for Climate, Environment and Air Quality Improvement, together with Katarzyna Sobczak – Head of the International Cooperation Team.
Learning through play
Students learned why air quality is important for health, and also learned about climate protection options. However, the meeting was not limited to theory. Participants of the meeting also had the opportunity to take part in practical experiments. Their purpose was, among other things, to present the mechanisms of renewable energy sources. Through direct involvement, it was easier for them to understand the mechanisms: driving vehicles with hydrogen, creating electricity from the sun and knitting heat pumps. In addition, young people were able to better understand the consequences of actions that affect the environment and gain motivation to take steps to protect the environment.
Young ecology enthusiasts
The meeting was also an opportunity for students from the two countries to exchange experiences. During the workshop, students discussed the impact of atmospheric pollution on human health and the environment. They learned about specific actions taken in their countries to combat smog and ways in which they themselves can contribute to improving air quality in their communities. The topic of transportation development in the context of available technologies generated an interesting discussion.
The young people showed great knowledge and understanding of the topics discussed during the meeting. It is extremely important that the new generation shows concern for the environment and ecology.
LIFE projects for education
The workshops were conducted by representatives of LIFE integrated projects implemented at the Marshal's Office, i.e. "Malopolska in a healthy atmosphere" and "Ecomalopolska for climate."