Meeting on good practices carried out by municipalities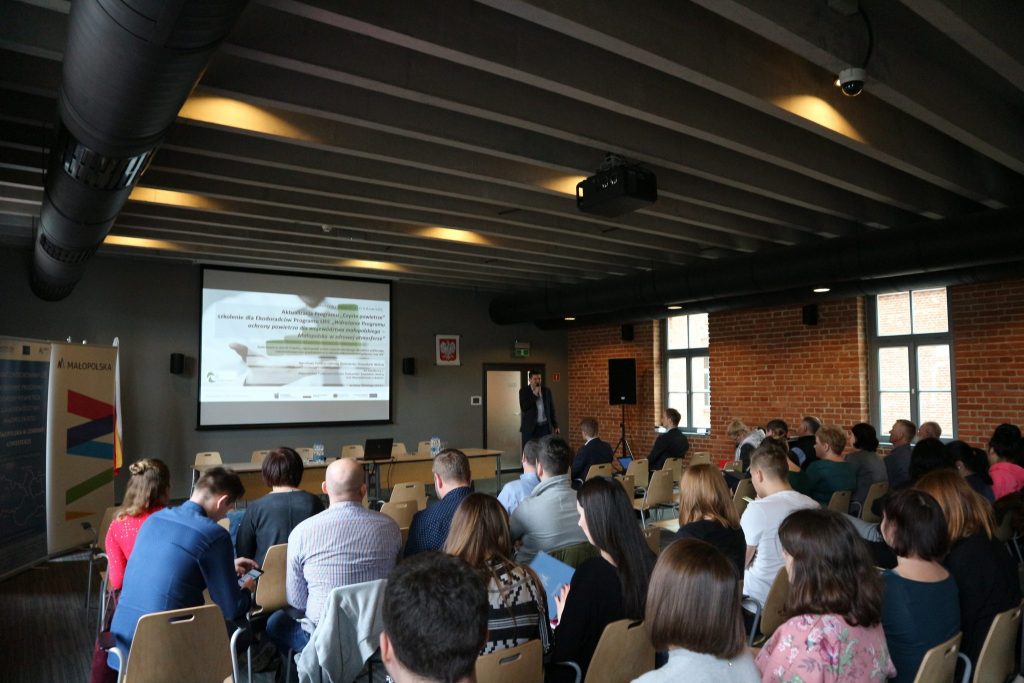 On February 21, 2019, a meeting was held at the Home Army Museum in the field of good practices carried out by the municipalities of the Malopolska Region.
During the meeting, the representatives of the Provincial Fund for Environmental Protection and Water Management discussed changes that took place after the update of the "Clean Air" program and brought up the themes of the thermo-modernization tax relief introduced in 2019.
Issues related to good practices in the inspection of home furnaces were also discussed at the meeting. Mr. Grzegorz Gruszczak – a municipal guard in Igołomia – Wawrzeńczyce and Koniusza talked about his work and about what affects the fact that the inspections of home furnaces that he performs are effective. On the other hand, representatives of the Skawina Smog Alert and the Skawina Town Office talked about the preparation, implementation and effects of the "My neighbor no longer poisons" social action aimed at locating and eliminating the cumbersome old smoking devices in the Skawina Municipality. Residents had the opportunity to anonymously report illegal combustion, it was an impulse to carry out furnace inspections. On the basis of their reports, officials, along with the officers of the Municipal Guards:
carried the given furnace inspection for the burning of prohibited fuels and waste, and if irregularities were confirmed, a criminal fine was imposed or an application was submitted to the district court.
conducted a discussion about how much the person inspected damages its own and its neighbors' health, how they have the possibility to obtain support for furnace replacement, purchase of fuel, thermal modernization of the building.
issued warnings that the employees of the Air Protection Department and the officers of the Municipal Guards would perform frequent inspections there.
placed the troublesome houses on the "black map" (unpublished). The households will be under the "constant" supervision of the inspectors if irregularities are still reported.
helped and advised in the selection of the best source of heat and possible forms of aid.
carried out an inventory of heat sources – they added the building to the register of inefficient furnaces to be replaced before the "anti-smog" resolution enters into force and marked the installation with a special sticker.
The Eco-manager from the Raciechowice municipality – Jerzy Tymczyszyn and the Eco-manager from the municipality of Zakliczyn – Barbara Witek, operating within the framework of the LIFE project, shared their experience in the application of good practices related to air protection. They told about the activities they undertook in their municipalities to increase the awareness of the inhabitants about air pollution.
The meeting was organized as part of the implementation of the "Implementation of Air Quality Plan for Małopolska Region – Malopolska in a Healthy Atmosphere" LIFE integrated project.