More municipalities in Małopolska want local anti-smog resolutions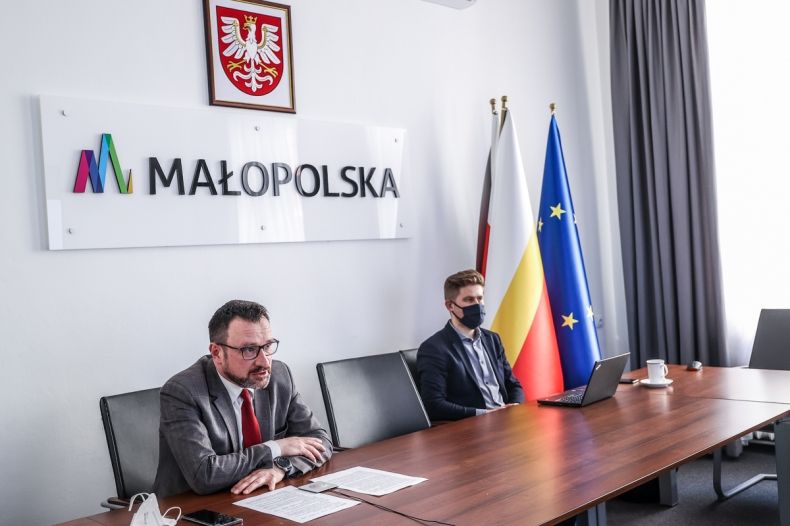 On Friday, 9 April, a meeting was held of representatives of the municipal authorities of Skawina, Zabierzów, Krzeszowice, Rabka-Zdrój and the cities of Tarnów and Oświęcim with Tomasz Urynowicz, Deputy Marshall. The meeting was devoted to the development of principles for adopting local anti-smog resolutions. Municipalities which decide on a local anti-smog law will gain preferences in access to funds from the Regional Operational Programme for the years 2021-2027.
  Discussions with representatives of municipalities which care about concrete measures for the health of their inhabitants have been fruitful. The most important objective of the local anti-smog resolutions will be the ban on using coal from the beginning of the year 2030. I would like to emphasise that these actions are in line with the national energy policy, and active self-governments receive all possible substantive assistance from the Board of the Małopolskie Region. Procedures worked out together will result in defect-free documents and their legislative path. I hope that other municipalities in Małopolska will use them

– said Deputy Marshal of Małopolska Tomasz Urynowicz.
The main task of local anti-smog resolutions is the complete elimination of coal-fired heating devices by 1 January 2030, and leaving in use only those biomass furnaces that meet at least the so-called ecodesign requirements. Such resolutions will be adopted by the Lesser Poland Regional Assembly at the request of municipalities and after the Municipal Council adopts an appropriate directional resolution. The biggest benefit of adopting local resolutions will be the health of residents – faster achievement of air quality consistent with Polish and European standards. An additional benefit is the preferential treatment of such municipalities when allocating funds from the Regional Operational Programme for the years 2021-2027.
However, in order to introduce restrictions, local authorities must also provide residents with assistance in replacing furnaces: first and foremost, the activity of ecomanagers, the operation of a service point for the Clean Air grant programme, and shelter programmes for people suffering from energy poverty.
Local anti-smog resolutions, apart from a complete elimination of coal heating devices, ensure consistency with the provincial resolution , which assumes that:
by 31 December 2022, all boilers fired by solid fuels which do not comply with any emission standards, i.e. the requirements of at least class 3 according to PN-EN 303-5:2012, must be replaced
by 31 December 2026, solid fuel boilers must be replaced which comply with the requirements of class 3 or 4 in accordance with PN-EN 303-5:2012
furnaces which comply with the requirements of class 5 in accordance with the PN-EN 303-5:2012 standard and which were in operation before 1 July 2017 may be used until the end of their service life.
Only radical steps will improve air quality, and it should be noted that smog causes a similar number of deaths annually in Poland as the Covid-19 virus – over 45,000

– summarised Deputy Speaker Tomasz Urynowicz.