More municipalities in Małopolska want to introduce anti-smog resolutions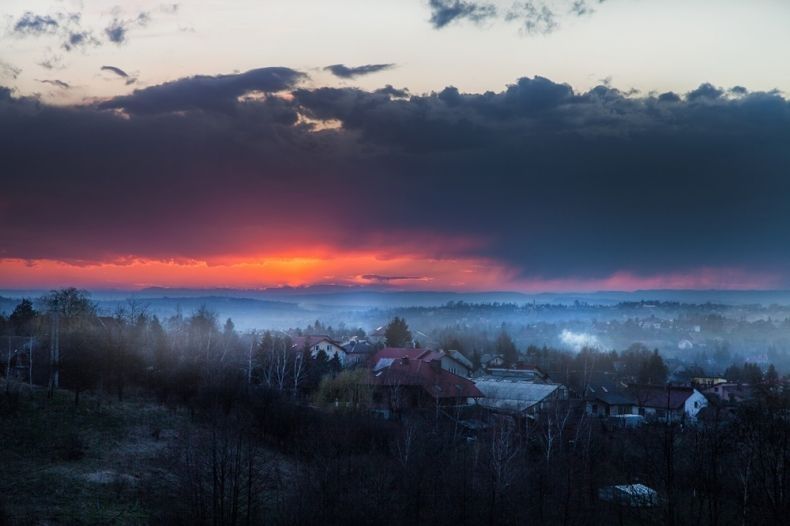 Skawina, Tarnów, Oświęcim and Rabka-Zdrój, as well as Krzeszowice are the next Małopolska communes, which intend to introduce local anti-smog resolutions. These are restrictions on the use of solid fuels, especially coal. Representatives of self-governments of the mentioned communes discussed the proposed provisions on Monday, 1 February this year during a remote meeting attended also by Tomasz Urynowicz, Deputy Marshal of Małopolska, and Piotr Łyczko, Deputy Director of the Department of Environment, Office of the Marshal.
I am very pleased that more local governments in the Małopolska region not only respect the regional anti-smog resolution, but want to go one step further. The example of Krakow, which introduced a ban on solid fuels in mid-2019, shows that such action has a very real impact on air quality. This was confirmed by research by experts at the AGH University of Science and Technology, published a few days ago

– says Tomasz Urynowicz, Deputy Marshal of Małopolska.
Local anti-smog resolutions – guidelines
One of the tasks of the Małopolska Region in the framework of the Air Quality Plan is to develop uniform rules for the introduction of local anti-smog resolutions, consistent with regulations already in force. Preliminary guidelines are already prepared. The most important proposals include:
Compliance with deadlines resulting from the anti-smog resolution:
– obligation to replace out-of-class cookers with coal and wood by the end of 2022,
– obligation to replace 3rd and 4th class cookers with coal and wood by the end of 2026.
Ban on the installation of new coal-fired boilers and heaters – from 1 January 2022.
decommissioning of all operational coal-fired equipment – by 31 December 2029.
Carry out an analysis of the scale of fuel poverty by municipalities by 30 June 2022. (in accordance with the Air Quality Plan)
Creation of local subsidy programs for furnace replacement and shielding (subsidies for higher heating costs) for the poorest residents.
– Councillors of the Skawina Municipality already passed a resolution of intent in March 2019 to develop local anti-smog regulations. The fact that there was not a single vote against it at that time is an indication of how important this problem is for us, says Tomasz Ożóg, vice mayor of Skawina. – The fact that the provincial government develops uniform rules for local anti-smog resolutions is therefore a great convenience for us: we can be sure, for example, that the commitments we make will be in line with provincial, national and EU regulations," he adds.
Deputy Marshal Tomasz Urynowicz added that local anti-smog resolutions should be based on the government's "Clean Air" subsidy program. The effectiveness in obtaining subsidies from this program can be especially seen in those communes in which there are eco-managers employed under the LIFE project "Małopolska in a healthy atmosphere". The Air Quality Plan, also obliges all local authorities to set up an advisory point for the Clean Air Program from 1 January 2021. Such an advisory point already operates in many communes.
Municipalities that decide to introduce local anti-smog resolutions can expect preferences in funding under the Regional Operational Program for 2021-2027.
Photo gallery: