November 14-Clean Air Day!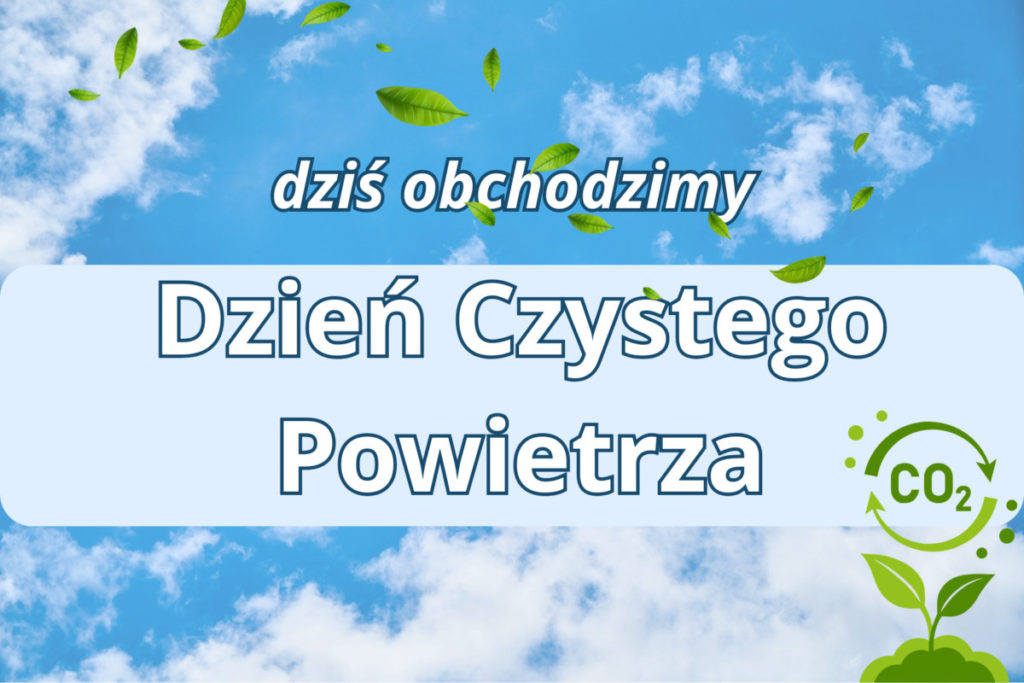 On November 14, Poland celebrates Clean Air Day for the 19th time. This is a special opportunity to reflect on what can be done to make the air quality better and to remind the activities carried out for clean air.
Poland can boast of many initiatives. It is enough to mention government and local government programs that are popular among Poles and which significantly improve the quality of the air we all breathe.
The Clean Air Program has been in operation for five years. It aims to improve air quality and reduce greenhouse gas emissions by replacing heat sources and improving the energy efficiency of single-family residential buildings. With a budget of PLN 103 billion for 2018-2029, the program is the largest pro-environmental initiative in Poland.
Why should residents of Malopolska benefit from the Clean Air Program?
The program is ideal for people renovating their homes and looking for modern solutions in running their households. Dismantling and purchase of a new efficient source of heat, modernization of the installation of central heating, central hot water (including solar collectors), insulation of external and internal building partitions, separating heated and unheated rooms, purchase and installation of a photovoltaic micro-installation, mechanical ventilation with heat recovery, window woodwork, external doors, garage doors/gates (the cost of dismantling is also reimbursed) – these are only selected activities for which you can receive a grant.
Through the availability of Eco-managers in the municipalities, as well as thanks to the qualified and experienced staff working on the program, applicants can count on professional service and an efficient process of dealing with the formalities of applying for financing. Currently, the Provincial Environmental Protection and Water Management Fund in Krakow is cooperating in the joint implementation of the Clean Air Priority Program with all municipalities in Małopolska province.
Contact an Eco-manager from your municipality
Clean Air Program in Małopolska
In the Małopolska region, the program is very popular and popular. The results are satisfying and show that more and more Malopolans are taking advantage of the program's benefits.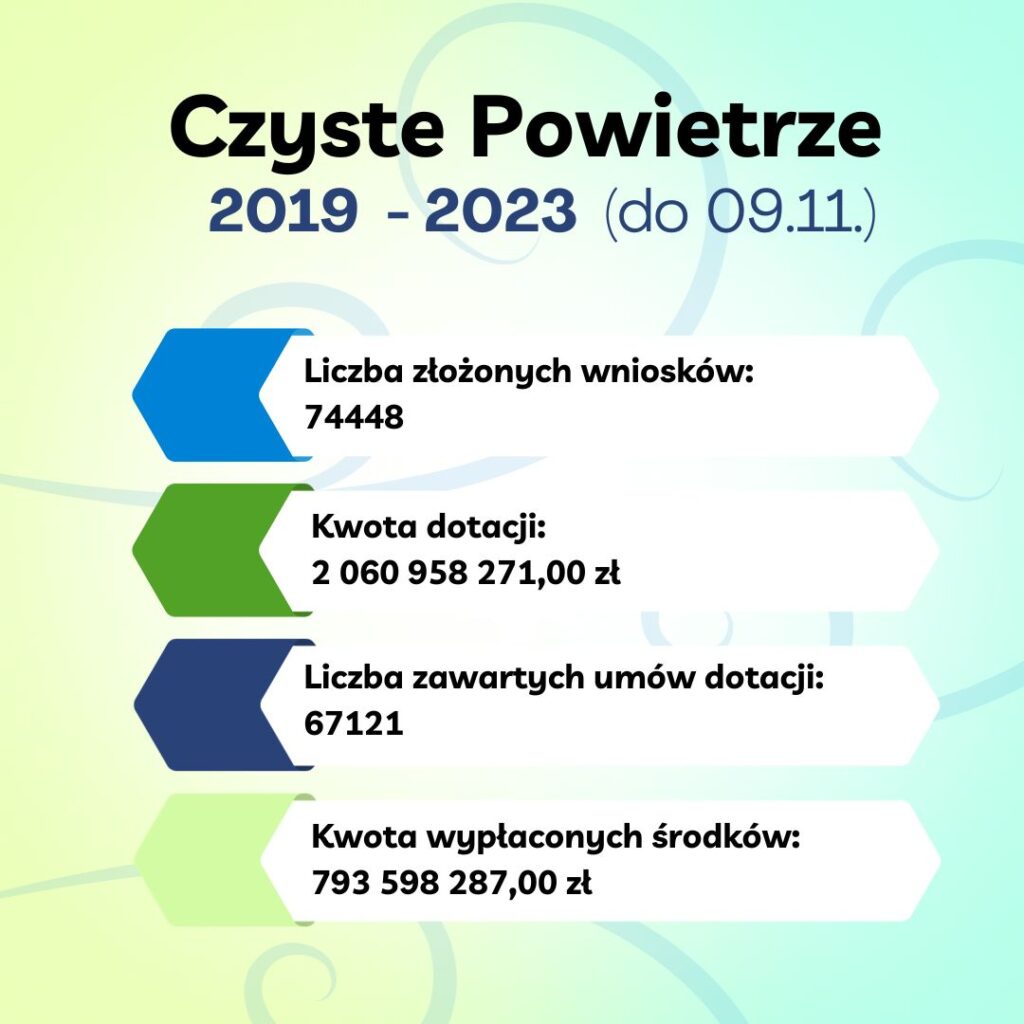 In the Krakow Fund, Beneficiaries mainly apply for replacement of heat sources, installation of gas boilers and heat pumps. In addition, for tasks related to thermal modernization, i.e. insulating the building and replacing window and door frames. Moreover, we have recently seen an increase in interest in subsidies for photovoltaic panels.
According to the current version of the program, Clean Air beneficiaries can benefit from as many as three levels of subsidy, with the lower the income, the higher the subsidy. The PLN 135,000 subsidy applies with a monthly income of no more than PLN 1090 or PLN 1526 per person (applies to multi-person and single-person households, respectively), and for those who have an established right to one of the four forms of benefits. The next income threshold, with support up to PLN 99,000, is respectively: PLN 1894 or PLN 2651, while PLN 66 thousand can be received by applicants whose annual income does not exceed PLN 135 thousand. A maximum of PLN 1.2 thousand – can be obtained for performing an energy audit.
How many applications were concluded in 2023?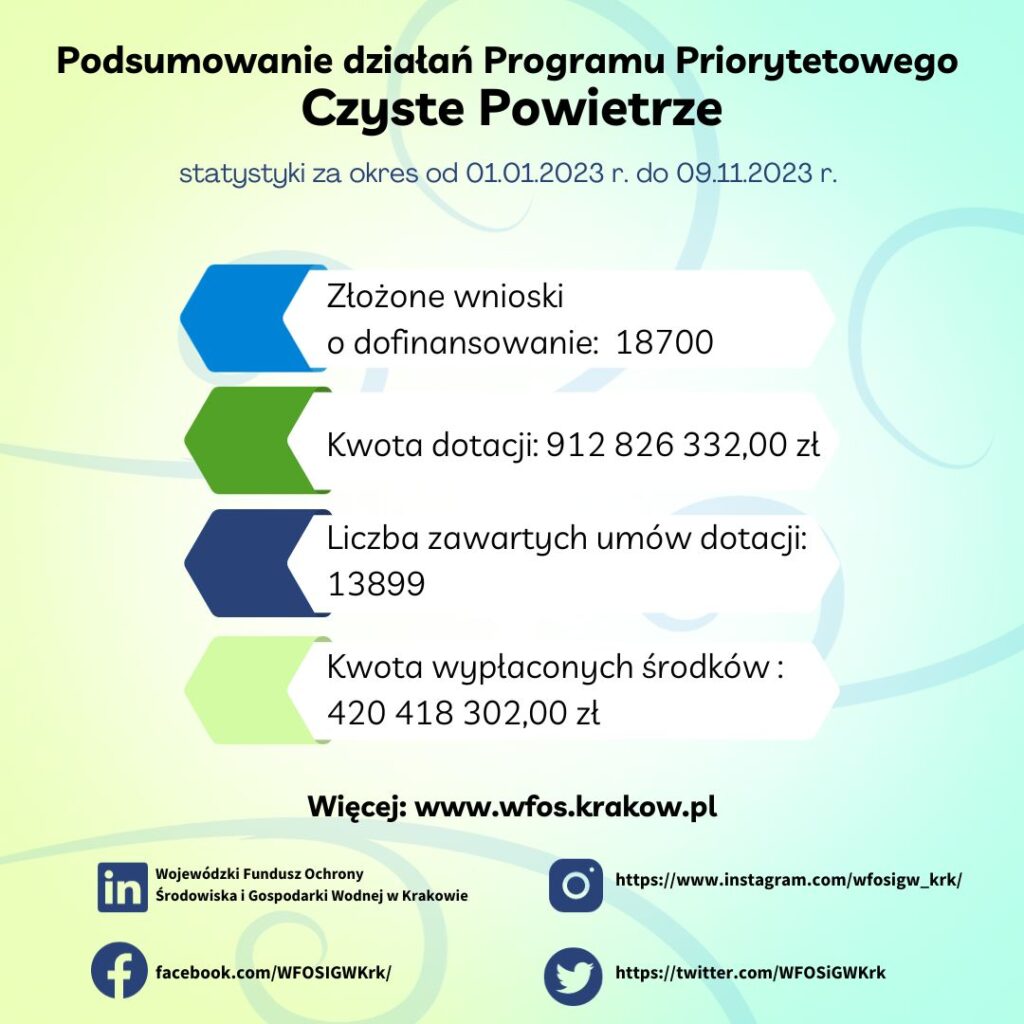 Source: Provincial Fund for Environmental Protection and Water Management