The best ecomanagers in the Malopolska Region 2017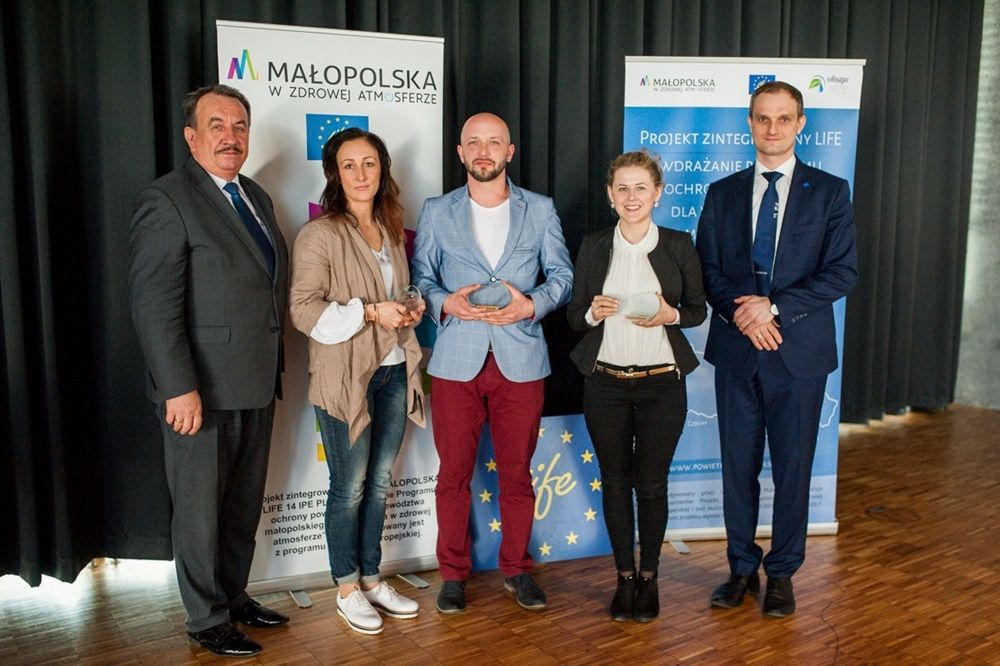 As of 31 March 2018, the first phase of the LIFE project in Małopolska came to an end. This is a great time for summaries and distinctions for our ecomanagers.
Visiting schools is not dreadful to them, organizing meetings, picnics, runs, publications in newspapers, radio stations or social media are their daily bread and butter! The increase of social awareness in the field of air protection is a fact, and the Malopolska Region plays the role of the undisputed leader in this field.
On 12 April on the occasion of subsequent workshops organized for ecomanagers from 55 Malopolska municipalities,  Wojciech Kozak – the Deputy Marshall of the Malopolska Region awarded statuettes for the three most-distinguished ecomanagers.
The three the best
The nicest ecomanager, is always happy to offer good advice and help to his companions implementing the LIFE project, was Piotr Zawała – the ecomanager from the Municipality of Gdów. He was awarded the largest number of votes in an anonymous poll assessing Eco-managers.
Paulina Białoń from the Nowy Targ Municipality is another awarded person. She came first in the ranking in terms of the number of the people she reached through her activities. During her visits at the municipality office, the organized meetings, runs, competitions, lectures, open days, tree planting and many, many others, the ecomanager in 2017 met and gave advice to as many as 15,289 people.
The third award was granted to Ewa Mól from Limanowa. She was exceptionally active in such media as: press, radio, Internet, including social media. With its radio programmes on renewable energy sources, she reached a large group of listeners, and through her active and regular updating of websites and the "Limanowa in a healthy atmosphere" profile, information about the air quality and activities undertaken by her reached many recipients. In total, in 2017, 95 publications developed by her were published.
The distinction of the three best ecomanagers was a challenge for the Malopolska Region – the Coordinating Beneficiary of the LIFE project. All 60 Ecomanagers showed unusual determination and activity in the implementation of the project. It is not only about raising public awareness, it also includes almost 2,000 buildings tested with thermal imaging cameras, over 2,100 home furnace audits and 216 applications for co-financing investments for the total amount of PLN 391.5 million! Without the resilient and effective operation of every ecomanager, such a success would not be possible.
Ecomanagers are now facing the second phase of the project, it will be implemented until December 31, 2019. Having summarized the effects of the work and the achieved success, it is time for further ideas, creative activities and fresh energy in realizing our common goal – clean air in the Malopolska Region.
[easy_image_gallery gallery="512″]