Warm-up with European Funds and presentation of Małopolska LIFE projects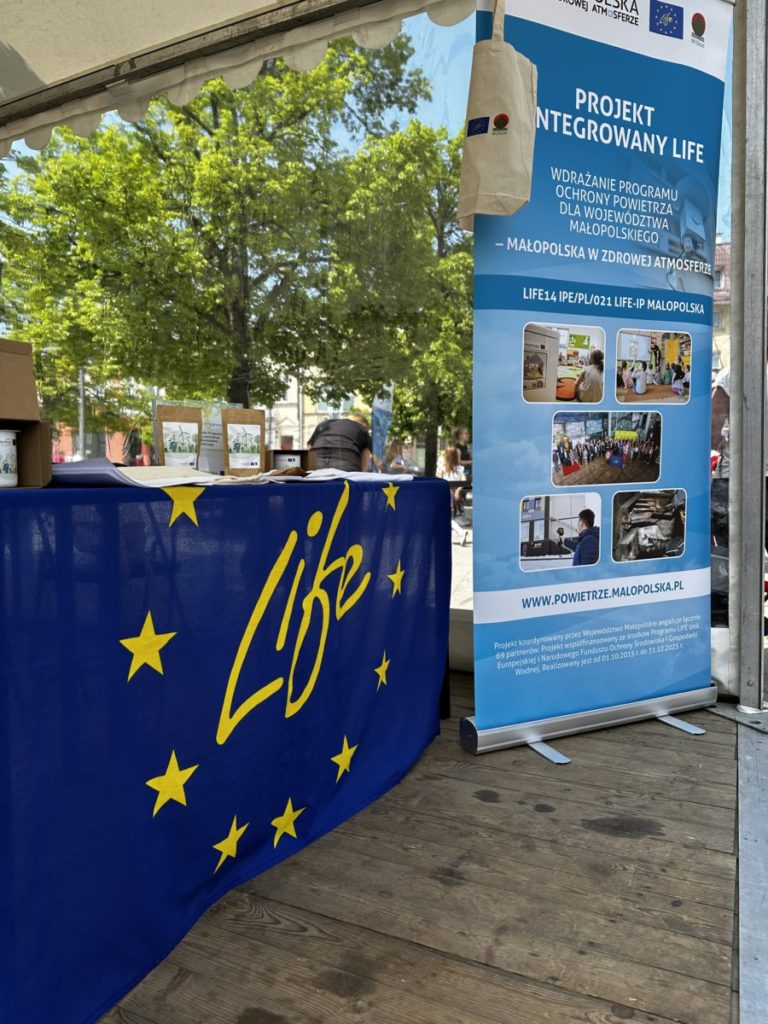 This past weekend – May 27 and 28 – another event in the series took place: Warm-up with European Funds. This time, residents of Gorlice and Myslenice were able to talk about EU funds. The spring warm-up tour includes 10 stops. The main purpose of the meetings is to prepare future beneficiaries of European Funds in Małopolska to apply for EU support for planned investments.
Gorlice discovers the potential of European Funds
The LIFE Project "Malopolska in a healthy atmosphere" was not to be missed during the outdoor events. Residents of the region were able to talk to, among others, eco-managers and coordinators from the Marshal's office about the project's activities and "green investments". Specialists provided comprehensive information on the conditions and rules for applying for grants for furnace replacement and renewable energy sources. Experts explained the procedures for submitting and settling subsidy applications.
Attractions in the festival town
During the event, participants were able to combine learning with great fun. In the festival town they had the opportunity to try their hand at the disciplines played during the Third European Games, hosted by Malopolska. Among the available attractions were a climbing wall, a lesson with a judo trainer, and fencing and archery lessons. In addition, participants could take part in contests, quizzes and games with prizes.
Record support – €2.7 billion for Małopolska
European Funds for Małopolska 2021-2027 is €2.7 billion, which will be directed to support projects that are key to the region's development. Euro 312 million has been reserved for projects related to research and business development. Innovative environmental projects will be supported with 510 million euros. 136.3 million euros will be allocated for the development of urban transportation. In addition, 299 million euros will be allocated for the development of social infrastructure, such as schools, hospitals and community centers. The program also aims to support the labor market and education to the tune of 659.4 million euros. Support for local communities has not been forgotten. Funds amounting to 211.3 million euros will be available to Malopolska's municipalities and other local government units to enable local initiatives.
In May we visited: Proszowice, Dabrowa Tarnowska, Olkusz, Gorlice and Myślenice. For the next events within the framework of Warm-up with European Funds with the participation of the LIFE project's eco-managers, we invite you to Krościenko nad Dunajcem (June 3) and Miechów (June 4), Zator (June 11) and Stary Sącz (June 17).