Iwona Wańczyk – Eco-manager in the Municipality of Chełmiec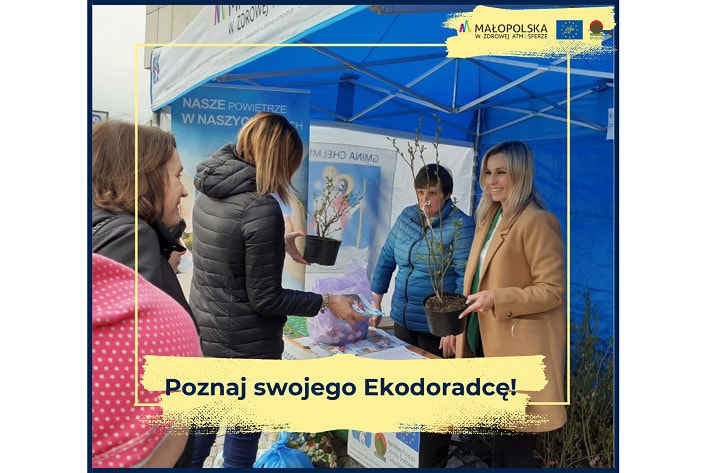 Almost 250 eco-managers work in the municipalities of Malopolska. They are specialists who, on a daily basis, help residents obtain subsidies to replace old stoves. They visit schools, where they successfully share their knowledge about renewable energy sources and air quality.
Meet Iwona Wańczyk, who serves as an Eco-advisor in the Municipality of Chelmiec as part of the implementation of the LIFE integrated project entitled: "Implementation of the air protection program for the Małopolska region – Małopolska in a healthy atmosphere".
The primary activity of the Eco-managerss is to inform residents about the provisions of the anti-smog resolution for Małopolska. You support residents in replacing old, off-grade boilers used for heating buildings. What else are your responsibilities?
Subsidy programs can be complicated, so we help residents fill out the documents. Residents can count on financial support for replacing outdated heat sources in buildings, as well as for the thermal modernization of buildings, including insulating houses, replacing windows and doors, or installing photovoltaics. In addition, I organize environmental events. We disseminate knowledge on environmental protection. We want to make residents, both adults and children in schools, aware of the important role the environment plays in our lives.
You organize a lot of pro-environmental events in the municipality of Chełmiec. How do they affect the environmental awareness of the residents?
In April this year, we organized an event in our municipality called "Swap plastic for clean air." Residents brought plastic bottle caps, the proceeds from the sale of which were donated to the rehabilitation of needy disabled children. Through the organized collection, residents were able to support sick children and clean up their surroundings of plastic. In addition, residents received blueberry bush seedlings in change for the bottle caps. The event was organized in cooperation with the Starosty of Nowy Sącz, as part of the Second Małopolska Day for the Climate. Such activities arouse public concern for the local climate and contribute to increasing green space. A few days ago we settled the communal ecological competition entitled "My EKO – an idea for environmental protection". We wanted to encourage elementary school children and teenagers to take measures to improve air quality. The contest was very popular among students. The task of the competition was to prepare an artwork with an ecological theme made using any technique. The work had to depict how to take care of the environment, how to reduce garbage or how to reduce electricity and heating bills. Students taking part in the competition showed great knowledge of polluted air, as well as interesting ideas for improving it. Seemingly small actions have a significant impact on improving environmental awareness. Adult residents are aware that through their actions, such as replacing a stove or insulating their homes, they have an impact on air protection.
Two difficult years are behind us – a pandemic, the war in Ukraine, rising energy prices, on top of inflation. Is there room for taking care of the environment in all this?
It's true – residents often face difficult challenges. Our help is really appreciated by them. We convince them that certain investments with subsidies, will quickly pay off. It is worth realizing how important a role each of us plays in caring for air quality and take at least partial responsibility for improving it. By insulating a building, for example, we can save money and enjoy warmth and clean air. So there is only one conclusion: it is worth investing, among other things, in the thermal modernization of buildings, thanks to which we will reduce the energy consumption needed to heat them. A message that is sincerely worth conveying to residents is a shared concern for the environment. Taking care of our daily habits is essential if we want to have an impact on the quality of the air we breathe.
How would you encourage residents to use the services of an Eco-manager?
I highly encourage you to take advantage of the advice of the Municipal Eco-advisers. Thanks to their knowledge and experience, we are happy to advise and help you obtain funding for investments affecting climate change mitigation. I invite all interested residents. Together we will consider an appropriate solution that will help reduce heating bills. I will also help you take advantage of the subsidies that are intended for this purpose.