Małopolska will test new model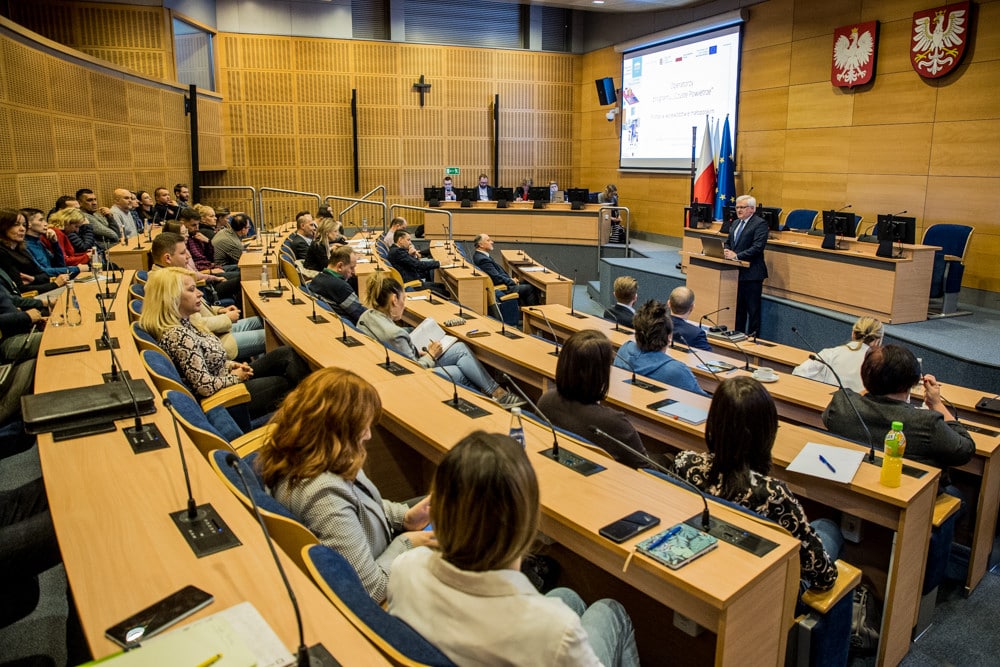 On April 4, an informational meeting was held at the Marshal's Office of the Małopolska Voivodeship regarding the pilot for the introduction of so-called Operators in the government's Clean Air program. Working out new optimal solutions will allow to increase the number of applications for furnace replacement and thermo-modernization of buildings with financing.
The meeting was opened by Deputy Marshal Józef Gawron. The event was also attended by Paweł Mirowski – Deputy Chairman of the Board of the National Fund for Environmental Protection and Water Management, Plenipotentiary of the Prime Minister for the "Clean Air" program, and Kazimierz Koprowski – President of the Regional Fund for Environmental Protection and Water Management in Cracow. The meeting was attended by almost 70 people.
The purpose of the meeting was to present the preliminary assumptions of the pilot project of the so-called Operators and to hold consultations with potential beneficiaries.
Representatives of the World Bank, the Polish Smog Alarm, representatives of municipalities, installation and consulting companies and non-governmental organizations from the Małopolskie Voivodeship joined the discussion on the assumptions of the pilot project.
Operators in the Clean Air Program – assumptions
The pilot program assumes the possibility of applying for the role of the so-called Operators for advisory, installation or consulting companies, non-governmental organizations and local government units. The key task of the Operators will be comprehensive support for residents with the lowest income (mainly energy poor). Their activities will mainly include: identification of beneficiaries, estimation of project costs, assistance in completing and submitting the grant application and application for payment, support in finding contractors for construction and installation work. Operators will be entitled to remuneration for successful activities. Payment will depend on the number of beneficiaries obtained from the poorest group, the type of investment carried out and the positive settlement of the investment.
Piloting the program in the Małopolska region
Efficient replacement of boilers in Małopolska is a guarantee of effective implementation of the Air Protection Program, and ultimately an improvement in air quality throughout the region. In addition, nearly 13% of households in Małopolska are affected by fuel poverty. Therefore, continuous activities are needed to support residents in replacing boilers, filling out applications for subsidies, and accounting for subsidies. An opportunity for additional development is the pilot of a new program run by the National Fund for Environmental Protection and Water Management.
Clean Air Program
Clean Air is a program for owners and co-owners of single-family houses, which provides subsidies for replacing heat sources and thermal modernization of the house. The program subsidizes the installation of, among other things: heat pumps, gas-fired boiler, oil-fired boiler, wood-gasifying boiler, pellet boiler, electric heating, installation of central heating and hot water, photovoltaic micro-installation. The amount of subsidies under the program can be up to PLN 135,000 (subsidy dependent on income).