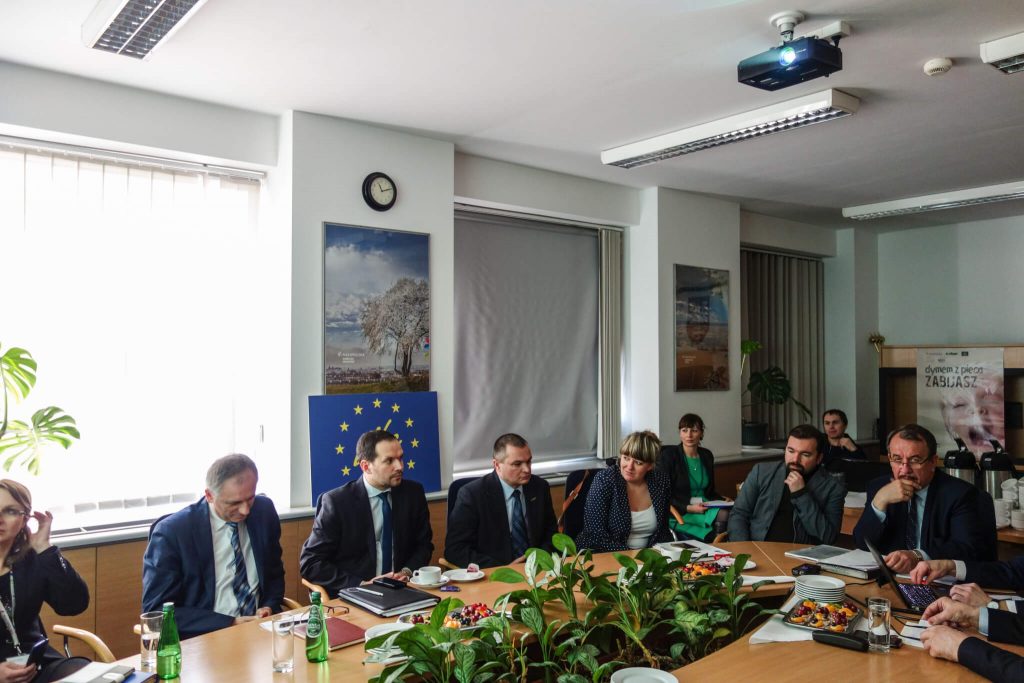 Meeting of the Program Council of the LIFE Malopolska Region project
Published by Piotr Łyczko
On February 15, 2017, the first meeting of the Program Council of the Integrated LIFE project "Implementation of the Air Quality Plan for the Malopolska Region – Malopolska in a healthy atmosphere" was held in the Marshal's Office. The tasks of the Council include acting as a program advisor, supporting the activities accompanying the project and proposing possible changes and modifications to the solutions that comprise the system of Ecomanagers. The following have been appointed to be members of the council:
Wojciech Kozak – Deputy Marshal of the Malopolska Region as the President of the Council,
Adam Domagała – Chairman of the Committee for Environmental Protection and Public Security of the Sejmik of the Malopolska Region as I Vice-President of the Council,
Karolina Laszczak – Director of the Environment Department of the Marshal's Office of the Malopolska Region as the II Vice-President of the Council,
Małgorzata Mrugała – President of the Regional Fund for Environmental Protection and Water Management in Krakow,
Paweł Ciećko – Malopolska Provincial Inspector for Environmental Protection,
Łukasz Szewczyk – Deputy Director of the Municipal Economy Department of the City of Krakow,
Roman Ciepiela – Mayor of the City of Tarnów,
Mateusz Klinowski – Mayor of Wadowice,
Paweł Knafel – Mayor of the Municipality of Słomniki,
Jakub Jamruz – Head of the Łapsze Niżne Municipality,
Zbigniew Szpak – President of the Management Board of KAPE SA,
Andrzej Guła – President of the Management Board of Krakow Smog Alert Association,
Professor Piotr Kleczkowski, Eng., PhD – AGH University of Science and Technology in Krakow, expert in the scientific community,
PhD Associate MD Ewa Konduracka, professor at the Jagiellonian University – medical community expert
The meeting was conducted by Wojciech Kozak, the Deputy Marshal of the Malopolska Region. The achievements of the LIFE project in the Malopolska Region, the role of the Ecomanagers, the Competence Center, the regional and local information and education activities in the field of air quality were discussed. The issues of air quality monitoring in the region, the air quality information system and the proposed purchase of air purifiers for kindergartens and crèches have been addressed. The project activities at the municipality level were presented by Aleksander Fraś-Zdeb – an Ecomanager in the municipality of Słomniki.
Implementation of the LIFE Malopolska project
Implementation of the LIFE Malopolska project in the municipality of Słomniki