We share our experience and best practice in creating a network of Eco-managers!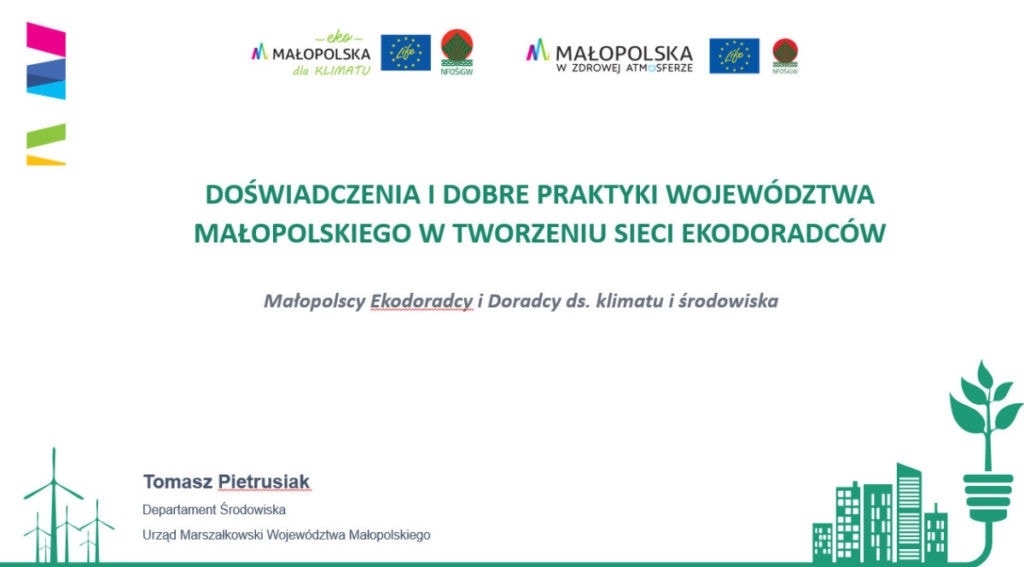 On 1 March a webinar in the series "Meeting with a KAPE expert" took place. The training was organized by the National Energy Conservation Agency (KAPE), as part of the integrated project LIFE "Małopolska in a healthy atmosphere". Over 80 participants took part in the online meeting.
The invited expert was Tomasz Pietrusiak – Deputy Director of the Department of Environment of the Marshal's Office of the Malopolska Region. During his presentation, he discussed the effects of the work of eco-managers and climate and environment advisers operating in the Małopolska voivodeship. He explained, among other things: what a great benefit it is for municipalities to employ people responsible for implementing strategies to improve air quality and reduce climate change at the local level. Expert advice on replacing boilers, easier access to funding programs, and quick responses to intervention requests were just a few examples cited during the meeting.
The second expert at the event was Katarzyna Surma, representing The Krakow Metropolitan Association. She talked about eco-managers working in municipalities near Kraków as part of the EkoTeam project. The main task of this project is to support investments aimed at improving the energy efficiency of buildings. Eco-managers promote the use of renewable energy sources and implement air quality measures. They also give advice to residents on choosing a new heat source.
We would like to encourage you to participate in KAPE's webinars in the "Meeting with an expert" series. The speakers present issues in the areas of energy efficiency, environment protection and current challenges and problems in industry, construction and low-emission economy.