Meetings with residents on local anti-smog resolutions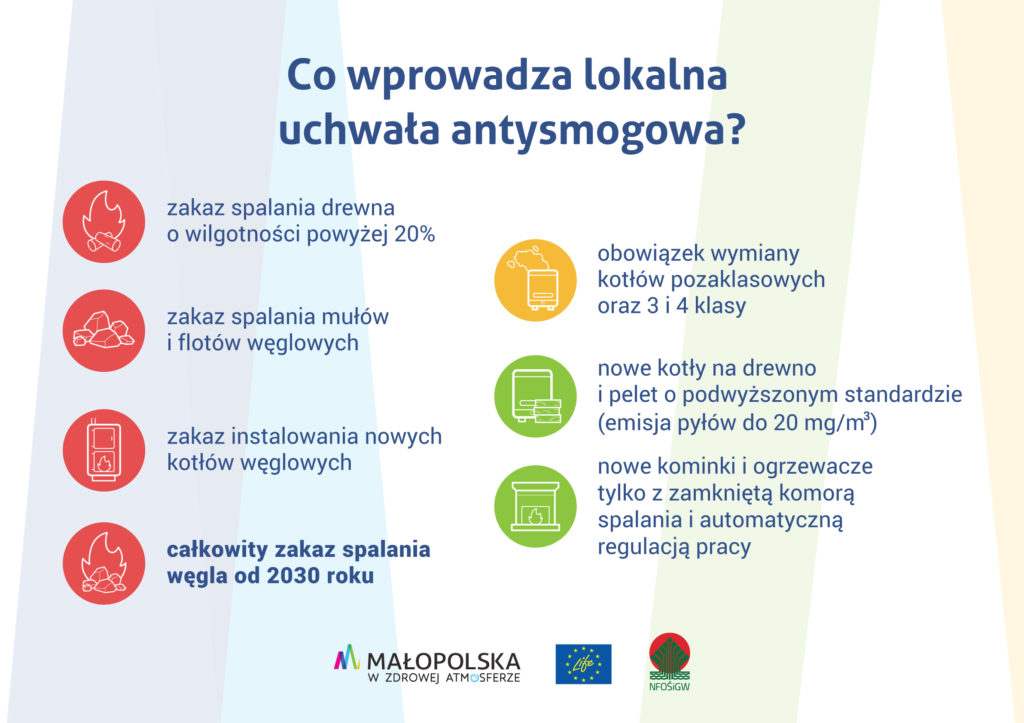 Executive Board of Lesser Poland adopted draft local anti-smog resolutions for Skawina, Niepołomice, Krzeszowice and the cities of Nowy Targ and Oświęcim. From 7 July, meetings with inhabitants will begin in their areas as part of public consultations.
The Małopolskie Region is taking further steps in the fight against smog as part of the Air Quality Plan (AQP). One of them is the introduction of local anti-smog resolutions at the request of interested municipalities. More and more Małopolska self-governments decide to take bolder steps in the fight for clean air.
What does the local anti-smog resolution introduce?
The most important assumption of the local anti-smog resolutions is the complete abandonment of coal from 2030. From the beginning of 2022 it will also not be possible to install new coal-fired boilers, and a year later the emission requirements for newly installed boilers, fireplaces and heaters using wood and pellets will be tightened. The local resolution still obliges local governments to comply the deadlines for replacing heat sources already set in the anti-smog resolution for Małopolska.
When can you take part in public consultations?
You are welcome to attend consultation meetings on the dates and locations below:
Municipality/City
Date
Location
Niepołomice
7 July 2021
17.00 – 19.00h
Laboratorium Aktywności Społecznej
26 Bocheńska Street, Niepołomice
Nowy Targ
8 July 2021
16.00 – 18.00h
Sala Obrad Urzędu Miasta
1 Krzywa Street, Nowy Targ
Skawina
9 July 2021
16.30 – 18.30h
Sokół Palace
7 Mickiewicza Street, Skawina
Krzeszowice
12 July 2021
17.00 – 19.00h
Sala herbowa Urzędu Miejskiego
4 Grunwaldzka Street, Krzeszowice
Oświęcim
13 July 2021
16.00 – 17.30h
Miejska Biblioteka Publiczna im. Ł. Górnickiego
Galeria Książki
2 B Nojego Street, Oświęcim
Draft resolutions are available on the website of the Public Information Bulletin of the Office of the Marshal of the Malopolska Region in the section Public Consultations and at https://powietrze.malopolska.pl/konsultacje/ They can be inspected at the office of the Marshal of the Malopolska Region, Krakow, 56 Królewska Street.
Opinions and comments on the project can be sent until 14 July this year using the online form available at: https://powietrze.malopolska.pl/konsultacje/ or in writing to the Department of Environment, Office of the Marshal of the Malopolska Region, ul. Racławicka 56, 30-017 Kraków or orally into the minutes.